Hey everyone, Steve here, and I just wanted to let you know about the new video I made for the website. Check it out on our homepage at http://www.mygolfinglessons.com!



Have you played a golf video game these days? I found that they can actually be a great way to practice in the comfort of your home. Even though it's not incredibly realistic, it still can serve a couple different purposes. I know personally, playing golf video games has exposed me to some sneaky tricks that I didn't already know.
Still, of course, it's nothing like being on the golf course at your favorite country club. In practice, it's probably about as good as mini golf, especially when it comes to putting. But, like I've also said, it's still an excellent way to practice if you're just sitting around the house doing nothing else anyways.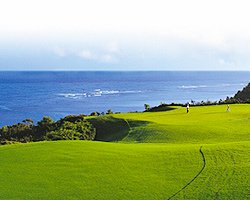 You may have heard of all these different games that are available. Most of them are fun, but unless the game is using a motion capture device, such as the Xbox Kinect, then you won't really get much practice out of it. These motion capture devices can actually go a long ways to help you improve your form, as long as you pay attention.
Personally, I've been playing Kinect sports season two for awhile. It's been my favorite golf game ever. It goes into a lot of the different aspects of the golf game itself, and is a whole lot of fun. It's also great to play with people from other countries, who speak in their own native languages. Especially since I speak just a little bit of Spanish, which makes for some interesting conversations online.
And if you decide to really get into it, you can join some of the online leagues, which keep track of your scores and allow you to compete against other people. It's really fun to play against family members in the same league as well. Then, whoever does the best has bragging rights next Thanksgiving.
These games are pretty cheap already as well. You can usually find these games around 20 bucks online. And if you don't have an Xbox or PlayStation, they're getting cheaper and cheaper every day as well. So, if you don't have a gaming device yet, and you want to improve your golf game, you might consider grabbing one. An entire Xbox package shouldn't cost much more than $200 Including the games and Kinect sensor.
Why? Because taking every opportunity to practice your golf game, maybe the best business decision you've ever made. We all know how competitive the business market is today, and landing that big client may well take place on the golf course. Assuming you're good enough at golf to impress them.
Of course, I'm not suggesting that you can get that kind of expertise from playing a video game. Still, it can help you with some basic things, like keeping your form. However, a professional program is always advised. If you'd like to check out some professional online lessons, you can click here.
Hello there everybody. I'm just stopping by this start this new blog for a new website that I just created. It's mostly about one of my favorite sports, golf! I have a whole bunch of tips I'd like to share, and that seemed like the best place to do it. So keep checking back here, stay up-to-date with all the free tips that I have available on my website.
Like I said, it's all 100% free, so you really have nothing to lose. Eventually, I hope to have forum site on my website, so that everybody can spread the tips they have. More stuff like that to come soon.
Talk to you soon!